Women's Washi Lab Coat
FIT TIPS
Measuring right is the key to a perfect fit Classico wear!

Find someone to help you measure is recommended.

Either you measure your on your own or have someone to measure for you, please check how to measure or Message Fit Consultant below
HOW TO MEASURE
The nude size is the size of your body without clothing.
We recommend you to choose a lab coat that fits your body for a comfortable fit.
[Bust]

Measure the circumference horizontally, in level with your armpits over the scapulae.

[Waist]

Measure the circumference horizontally, a little higher than your belly button. For those with a larger waist, measure the largest part of your waist.

[Shoulder Width]

Measure from the base of the back of your neck to the pointed edge of your shoulder. Double that number.
EMBROIDERY INSTRUCTIONS
PLACEMENT:
Embroidery is stitched on the left upper chest of each jacket, with one exception: the Casey. Due to a pocket on the left side, embroidery on the Casey is placed on the right upper chest.
FONTS AND SIZES:
Currently, we are able to offer two choices for fonts: block and script. The general font size is 8mm.
TEXT:
We can embroider up to two lines of text.
The top line should be your name, constructed like:[First Name or Initial] [Last Name], [Suffixes]. The second line typically features your department, practice, specialty, group or other affiliation.
Please enter the information in the embroidery order form beneath the item you are ordering. There is an 16-character maximum.
We partner with several embroiderers in Japan and the US, which can appear slightly different than the embroidery finish as shown on our samples. We carefully position each embroidery, so the text is visible. But depending on the character and lab coat style, the lapel may partially cover the text. Please note our 18-character limit, including spaces, to achieve the best embroidery placement.
NOTES:
Embroidery can add an extra 5 – 7 days to your order. Embroidered items cannot be returned or exchanged. If you are  unsure about your size, we recommend you order without embroidery.
30-DAY SATISFACTION GUARANTEE
If you are not satisfied with your Classico lab coat or scrubs, we will refund your money in full.(Terms & conditions apply*)
Details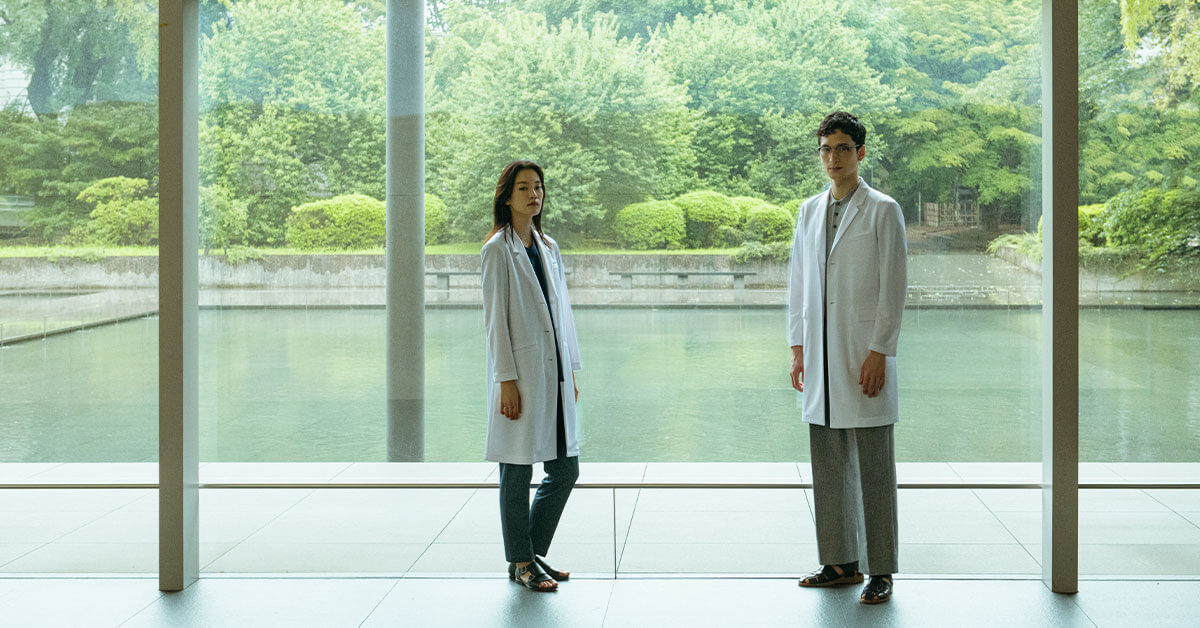 Combining the understated elegance of Japanese washi paper with lab coats. A hybrid fabric that integrates modern functions with traditional Japanese materials from the past.
Japanese washi paper has the lowest thermal conductivity among many different types of materials, in addition to its ability to disperse heat quickly as well as its unique resistance to moisture. To make the most of these properties of washi paper, we came up with a special knitted design where the inner layer that comes into direct contact with the user's skin is set with washi paper while preserving a 100% polyester external surface. This creates a fabric that is soft to the touch and resists both heat and moisture. At the same time, this design eliminates the problems of creases and discoloration typically associated with washi paper, which were significant issues with uniforms. Even after the harsh cleaning process required for clothes worn by medical personnel, there were no creases, and no ironing was necessary. No discoloration was also observed regardless of the number of times it was washed. This new hybrid material combines the advantages offered by natural materials with the functionality essential for personnel working in the healthcare industry.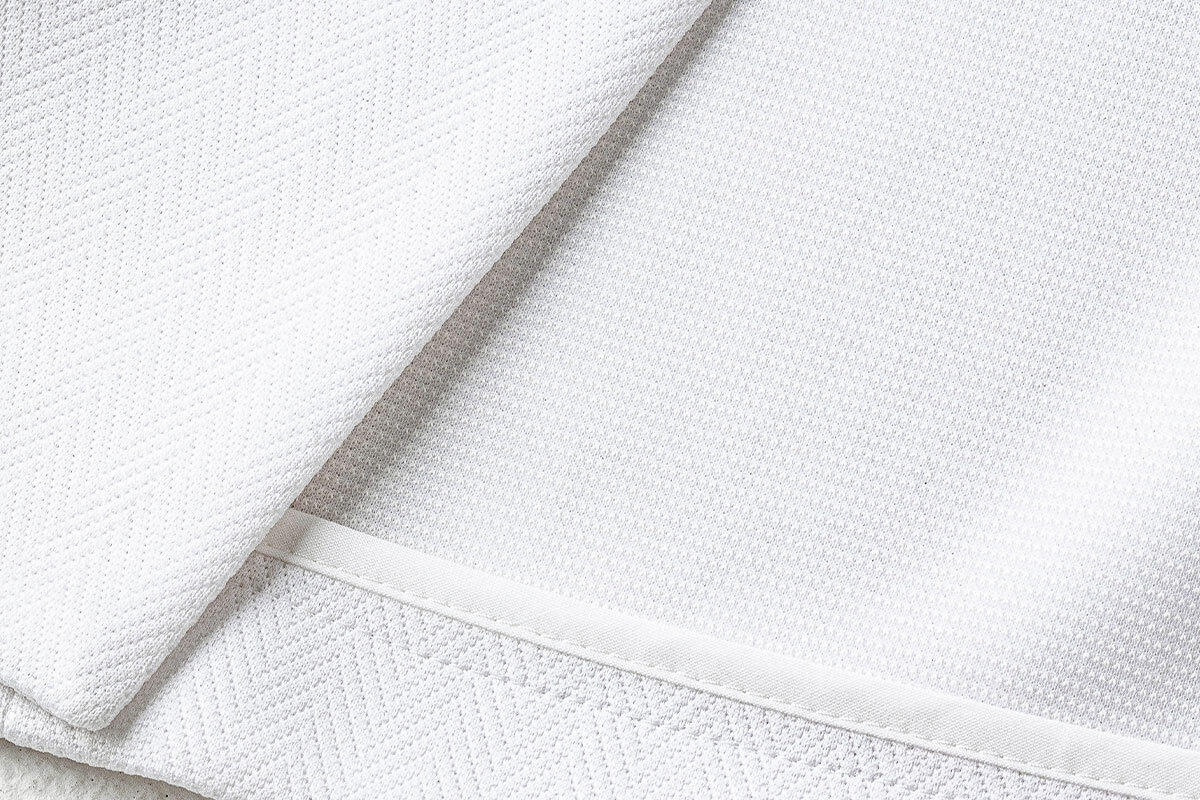 Incorporating the subtle qualities of washi paper into our design
We have incorporated the "understated elegance" of washi paper. This material combines traditional Japanese craftsmanship and aesthetics into our design. We have taken exceptional care to present the material's subtle elegance through simple and compact details that resonate with the herringbone pattern we have selected to convey the natural quality and simplicity of washi paper fibers.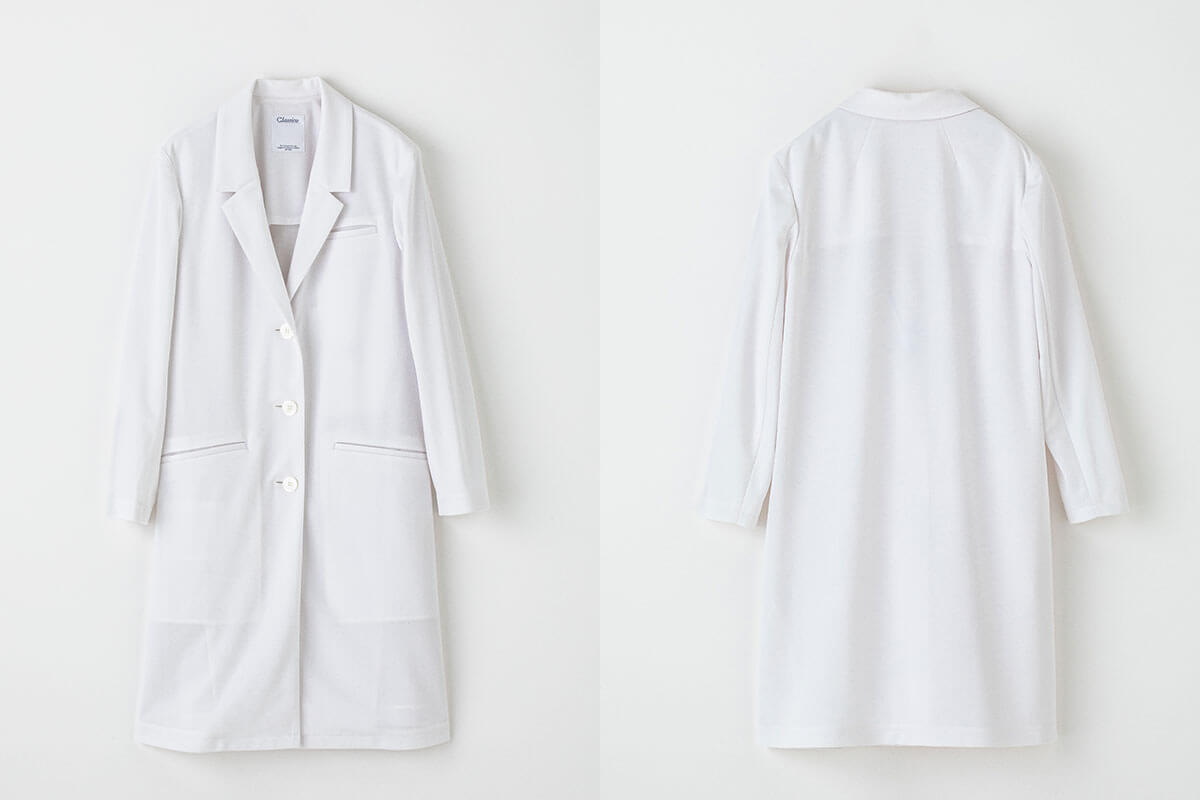 With its relaxed A-line silhouette, this coat gives rise to a beautiful and elegant look that flows from the hem. It has been designed with dropped shoulders to facilitate easy and comfortable movement. The coat has a narrower V-zone with its higher button position as well as a narrow collar for a compact look, which collectively give rise to an unassuming and relaxed front area that is essential for creating a good impression.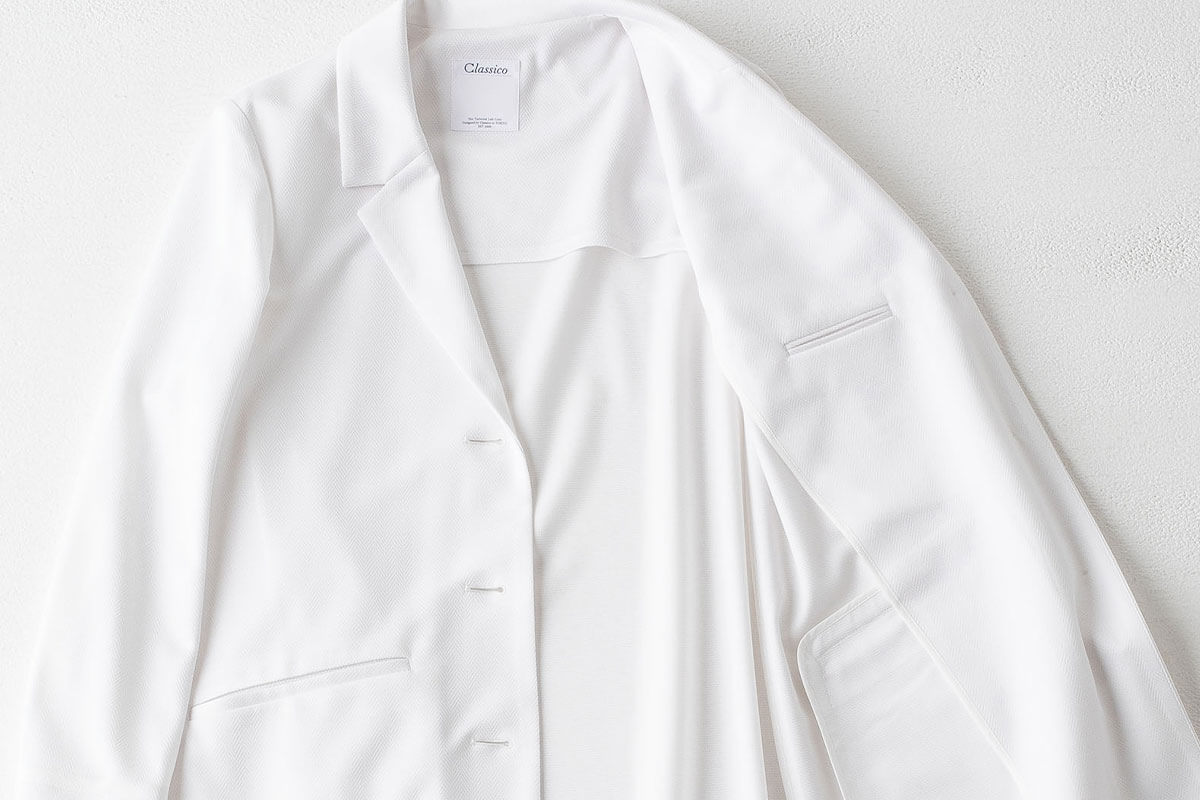 The coat's pockets also feature a casual and unassuming design. The right side pocket contains a smaller coin pocket to store seals and accessories. There is also an inner pocket on the left side of the coat.

Item Number:748 
Color: White
Sizes: XS, S, M, L, XL, XXL
Material: 89% Polyester, 11% Washi. Stretch,non-iron, water absorbent and quick drying.
* The pattern on the lining may differ from the ones in the photos posted. 
Model: Height 174 cm, Chest 73 cm, Waist 59 cm, Hips 87 cm
Size: M
Size Guide
Body Measurements (in inches)
| | | | | | |
| --- | --- | --- | --- | --- | --- |
| Size | JP Size | Bust | Waist | Hip | Shoulders |
| oo | XS | 〜30 1/2 | 〜24 1/4 | 〜34 1/4 | 〜15 |
| o | S | 30 1/2〜31 3/4 | 24〜25 1/2 | 33 3/4〜35 1/4 | 14 1/2〜15 1/4 |
| 2 | M | 31 3/4〜33 | 25〜26 3/4 | 35〜36 1/2 | 15〜15 3/4 |
| 4 | L | 33〜34 1/4 | 26 1/4〜28 | 36〜37 3/4 | 15 1/4〜16 |
| 6 | XL | 34 1/4〜35 1/4 | 27 1/2〜29 | 37 1/4〜40 | 15 3/4〜16 1/2 |
Garment Measurements (in inches)
| | | | | | |
| --- | --- | --- | --- | --- | --- |
| Size | JP Size | Bust | Shoulders | Sleeve | CB Length |
| oo | XS | 36 1/2 | 15 1/2 | 20 1/2 | 35 3/4 |
| o | S | 37 3/4 | 16 | 21 | 36 1/2 |
| 2 | M | 38 3/4 | 16 1/2 | 21 1/4 | 36 1/2 |
| 4 | L | 40 | 16 3/4 | 21 3/4 | 37 1/4 |
| 6 | XL | 44 1/4 | 17 1/4 | 22 | 37 1/4 |